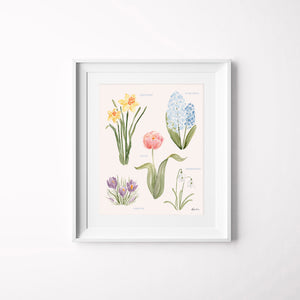 This item is made-to-order and requires a longer processing time. Please order by December 9th with standard shipping, or after December 9th upgrade to express shipping until December 14th.
A selection of spring flowers is the star of this art print: daffodils, hyacinths, tulips, crocuses, and snowdrops. Enjoy the look of fresh flowers all year round with this art print! 

- Available in two sizes
- Fine art giclee print
- Vertically oriented.